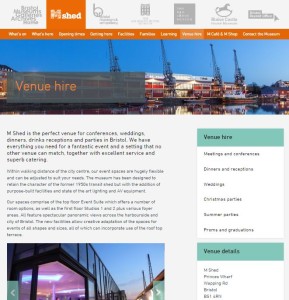 We haven't done an update on website phase two in a while, mainly because we've been busy bees behind the scenes with testing and implementing lots of new stuff.
We're now in the midst of milestone three, having done some work on improvements in milestone one and having held our milestone two workshops a little while back. We recently went live with some fresh new venue hire sections: http://www.bristolmuseums.org.uk/venue-hire/
After workshops and testing we decided to go down the route of event types for venue hire – we have lots of interesting conferences at M Shed, really exciting evening events at Bristol Museum & Art Gallery and lovely weddings at Blaise Castle House Museum so can adapt these depending on what people need and what our offer is. People can find information on room spaces such as capacities, download our menus and contact us to book really easily.
Know anyone who wants to hire a pretty special venue in Bristol? Send 'em our way!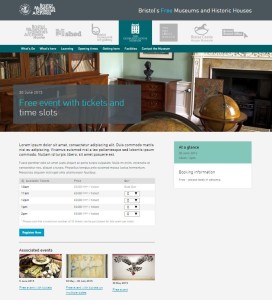 Right now we're in the middle of developing our ticketing functionality, which we'll be using for our what's on events (to replace third party sites such as eventbrite) and eventually for learning workshops. For this we're using WordPress plugin Event Espresso; we've been really impressed with how this works and we're pretty confident it'll make the user experience so much nicer for people wanting to book with us. There's a lot of work for us to do on fulfilment (we need to decide what to put on confirmation emails and tickets), setting up a new database and making sure people can navigate through registration easily.
Next up is user testing with teachers and learning people which will be at the beginning of July. We need to cover a number of things for learning: showing our offer (school workshops, gallery visits, teacher training etc), giving users the right information to be able to plan their visit (such as risk assessments) and then being able to book and take payments, so we'll be testing all of this.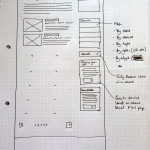 We're aiming for learning sections to be in place before the new school year and what's on updates to be in place before our next What's On guide comes out in September.