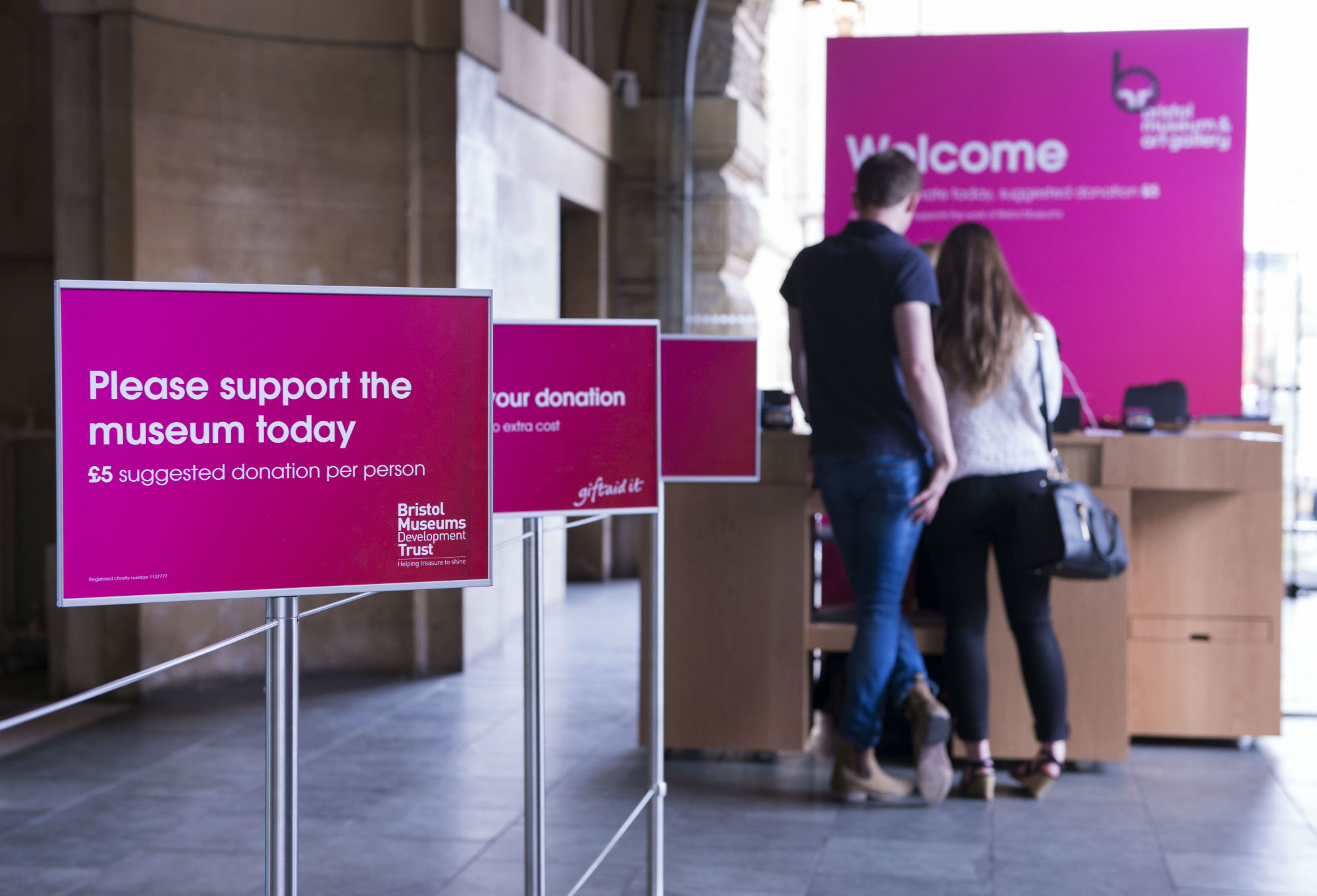 Image credit: Oliver Merchant
Post by Valerie Harland
If you have been at Bristol Museum & Art Gallery within the last week, you might have noticed that our street-level entrance lobby is now a much more welcoming place for our visitors.
Staff at a new Welcome Desk now greet everyone as they enter the museum. Visitors are asked if they've been to the museum before, if they've come for a general look around or for an exhibition, talk or particular gallery or artefact.
Welcome Desk staff state that there's no general admission fee and that donations are welcome, adding any highlights or their own personal favourites from what's on display.
The visitor map has been improved to more graphically show the layout of the museum and share some of the highlights in the galleries. Finally, visitors are asked if they would like to make a donation today to Bristol Museums Development Trust (the independent registered charity that raises funds for Bristol Museums and Archives).
To explain why we are asking for donations, the editorial on the reverse of the visitor map explains that behind the scenes curators, conservators, documentation professionals and a host of other specialist staff are working to care for the collections, create new displays and encourage people of all ages and interests to discover more.
Illustrated examples of how the £5 suggested donation could help are also provided in the visitor map, for example to conserve an artefact, examine minerals more closely, or conserve a painting.  The visitor map also outlines Bristol Museums' sources of funds: this is approximately 40% from Bristol City Council, 30% from Arts Council England, and the remaining 30% coming from our shops, cafes, event hires, Friends groups, and fundraising from a variety of sources including visitors.
It is anticipated the new Welcome Desk will give passers-by more of an idea of what happens inside this Edwardian building, resulting in more people crossing the threshold. It should also significantly increase the donation per head (currently 7p per head at Bristol Museum & Art Gallery), thus bringing in much needed funds that will enable us to do more with our collections and thus improve the visitor experience.
The Welcome Desk is being trialled for four months, until the end of October. If you have any comments about the Welcome Desk project, please contact Valerie Harland at valerie.harland@bristol.gov.uk