Well it seems it's March already. This means we're now two milestones into project website phase two.
We've done a chunk of work on events filtering, which you can try out here: http://www.bristolmuseums.org.uk/whats-on/ Hopefully you'll agree it's pretty simple and useful. Of course we did a spot of user testing for it and got lots of positive noises from people – let us know what you think of it.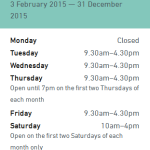 We also worked a bit on improving how our opening times are displayed. We added the option to add 'notes' to particular days, which is mainly for Bristol Record Office who have a range of opening times across any given week or month. We're really trying to make it as clear as possible when our sites are open (and of course each of the six sites have different opening times across different seasons over any given year).
Other stuff for milestone one included nicer 404 pages, WordPress upgrade and some other bits and bobs from phase one.
So, onto milestone two. During February we held three workshops – for venue hire, what's on and learning. In these we got a load of people from all over the service together to map out who our users are and what they need from us for each. Ben over at fffunction is going to talk more about how we get from the workshops to the prototypes in a future post, but for now I'll leave you with a couple of images to show where we are with our venue hire section. At the moment we're testing the prototype and putting together some visual designs for it. I'm sure it won't be long until it's live, and in the meantime we're starting to think about how we show our learning offer and enabling users to book workshops online.