With one of the main aims this year being to improve our online shop, myself and Darren decided to improve and update some stock photos. We enrolled in a crash course from resident photographer David Emeney and by the end of session thought we'd be able to do it, easy.
However, we came to find that photography is not as easy as it seems! First came the issue of space. Although David kindly allowed us to use his studio in the basement, with no computer nearby to check pictures and in fear of messing with any of his equipment, we though it may be best  if we set up a studio a little more close by.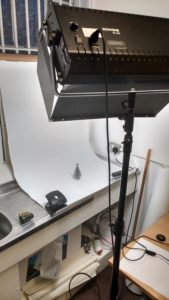 In true Blue Peter style Darren and I set about creating our own in-office photography studio by collecting bits and pieces from around the museum to mirror the one in the basement. Cardboard tubes were stapled together acting as a rod to hold the white background in place, this was held up by string wrapped multiple times around our window bars, counter tops were cleaned as to not make the paper dirty and even a staff noticeboard was used behind the paper to block out any natural light. Of course our office had to be rearranged first to fit such a project inside, a move which would have me non-stop sneezing for a few days as the settled dust was disturbed!
After a while of playing with the camera's settings trying to find the right ones, we set to work to photograph stock. With thanks to Debs for letting us borrow geology's light, the products came out well and the online shop now looks a lot smarter for it. Having this type of light was key to taking a good image, the close proximity between the product and source of light and changing the camera's white balance when needed added extra quality.
It was a really good experience getting to know the manual settings of a camera and how each product requires a slight adjustment, also to be up to date with what products we currently have in store. I look forward to doing more stock photo shoots in the future and hope, at some point, to have all products photographed like this to keep a consistent look for the online shop.