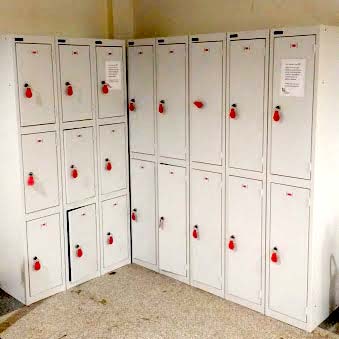 Adding additional lockers to our museums is a top 5 request from the public and staff alike. On Wednesday the 20th September we installed new lockers at Bristol Museum & Art Gallery and M Shed.
Until this week we only had 8 lockers at Bristol Museum & Art Gallery which is not exactly lots when you have 400,000 plus visits. At both museums the lockers have been finished in a suitable RAL colour way. We've introduced a £1 non-refundable fee which will initially re-pay the cost of lockers then be used to support our work. Slow money but sure money.
The main considerations for lockers are:
Custom brand colours
Coin retention lockers
The number of doors per locker – 2, 3 or 4 (more lockers more money but less useful if size is important)
installation
Location in the building
Disclaimers and cost messaging
The install didn't quite go to plan. I asked for lockers. I got lockers. However I also needed the following which I hadn't specified:
Numbered lockers – inserts so that the public can remember which locker they used
Numbered key fobs – the public need to know which key they have
Nuts and bolts – to connect each locker together and to the wall to eliminate the chance for the locker to tip over
I purposely located a bank of lockers in the corridor so that they'll be in the sightline of visitors to the front hall. Previously the lockers were tucked away and a constant frustration for visitors. Regular readers will know one of my favourite quotes "Address the user need and the business need will be clear".
Retail will be responsible for collecting the income with this new welcome income stream.
I was chuffed when one of our Visitor Assistants said "I've been here over 10 years and never thought I'd see the day we added extra lockers".
If you remember to address the bullet points above you'll have a smooth installation. Good luck.
Update
As of Sept 2018 we successfully recouped the costs within six months and produced a 1x return (basically doubled revenue to cost) and expect a 2x return now annually.