My name is Lacey Trotman and I am currently in the fifth week of my Digital Apprenticeship with Bristol Museums. Having left college this June completing a 2 year A levels course in History, Art History, Sociology and Film Studies, the summer was spent searching for the right role for me. Despite College pushing for students to attend University – and many of my friends doing so, I felt the pressures of study and exams to degree level were not for me at this time. I chose instead to look at apprenticeships as it gave me a chance to put my skills into practical use in a real world setting.
Since starting on October 4th I have already begun to work on various projects broadening my range of skills and understanding: tackling the Discovery Pens, writing 'How to' guides, resizing images, composing surveys, working on the online shop, diving into the fast paced world of social media and editing blogs for the Museum website.
My first impression is that it's an amazing place to work, with many opportunities to
undertake and progress.  It's also clear to see that there is a lot of work going into such an institution with many more departments behind the scenes than I could possibly have imagined.
I have always loved visiting museums and galleries. As a proud Bristolian I feel Bristol Museums provide some of the best in the country. Growing up, family holidays were full of excur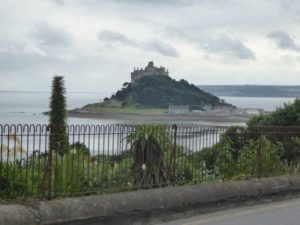 sions to castles and places of historical interest. Most recently, we visited St Michael's Mount in Cornwall. Our seaside cottage faced the historic site making for picturesque views at all times. With Poldark loving parent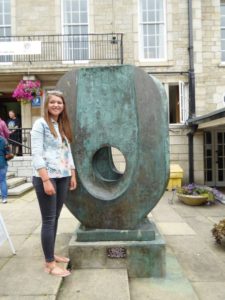 s we also visited the historic mines and ruins of work houses on the Cornish coast. Cornwall was also the home to legendary artist Barbara Hepworth, one of my key artists to feature in the Art History exam I completed this year; so I was thrilled
to see an original piece by her on our day trip to St. Ives.  Even better is that a few weeks after starting this apprenticeship, Winged Figure was newly installed in the gallery confirming this is definitely the best place to work!
Throughout my childhood I visited all the venues that come under the Bristol Museums canopy. My first trip to The Red Lodge Museum, was with Primary School. I remember being asked by the staff if I wanted to dress as Queen Elizabeth I for the class picture, but afraid of the spotlight I volunteered my best friend instead! Blaise Castle was always a childhood favourite of mine and I can also remember visiting the old Industrial Museum with its variety of transport, planes and trucks. However I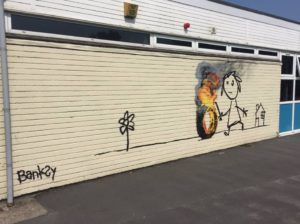 was delighted when the new M Shed opened offering fun and interactive features for free. I have not yet gotten over missing the iconic Banksy vs Bristol Museum exhibition or Dismaland, just 40 minutes away in Weston. With such strong links to Bristol, Banksy is a favourite artist of mine. Recently he paid my old Primary School a visit leaving a large mural on their classroom wall.
The next two years fill me with excitement and expectation. The addition of a marketing qualification will add further qualifications to my growing C.V.  I hope to excel in my role growing in both confidence and ability; I am keen to ensure I make the most of this experience and hope that all I have to offer will been seen as a positive addition to the hardworking Digital Team.