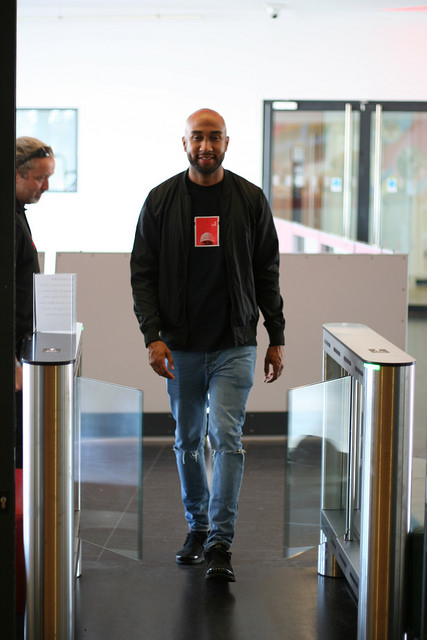 Image of Jake Mensah walking successfully through the barrier
This week we installed an entry gate system to our exhibition gallery at M Shed just in time for the opening of Children's TV. Our "exhibition" gallery is located on the top floor, far away from the ground floor reception and not naturally easy to stumble across for the average wandering visitor. The project scope was to reduce the overall cost of an exhibition to the service and encourage as many visitors as possible to purchase tickets in advance. We'll then test the success of the project against three of our key performance indicators – customer satisfaction, cost per transaction, and digital take-up.
Against each KPI we aim to:
Customer satisfaction – We don't want people to experience a notable difference between our old approach of buying from a member of staff at the entrance and them buying online/kiosk and then entering the exhibition via the gate. We expect teething issues around the "behaviour" of this new approach but not from the technology itself which should be robust. The outcome we need is for little to no complaints within the first two weeks or until we find solutions for the teething problems.
Reduce cost per transaction – a typical paid exhibition costs approximately £7,000 to staff the ticket station. By moving to a one off fee (plus annual service) we'll save money within 12 months and then in year two this will return a large saving for this function.
Increase digital take-up – until now it wasn't possible to buy exhibition tickets online or using your mobile device at the museum. This is a feature that the new system enables so we'll spend the next 18 months actively encouraging the public to buy a ticket "digitally" as part of our move to being digital by default. An additional benefit of using our website to buy tickets is that hopefully a percentage of these visitors will discover other services and events we offer. I also do wonder if we need to get a self-service kiosk to reduce the impact on the reception.
Setting up the entry gates
The third party supplier obviously manufactured and installed the gates but there was still lots for our team to deal with. We needed input from a whole gang of people. Our operations duo worked on ensuring we had the correct physical location, power, security and fire systems integration. Via collective feedback our visitor assistants provided various customer journeys and likely pinch points. Our digital team then helped with the installation and software integration for buying tickets. Design and marketing then helped with messaging. Throughout I was charged with overseeing the project and site visits with the supplier.
The major components of the project are:
Physical barriers – two stainless steel coated gates with a bunch of sensors and glass doors
Software for the barrier
Web service to purchase tickets
Onsite EPOS to sell tickets and print which is currently located at main reception
Initial observations
I was onsite for the launch and saw the first 50 or so visitors use the entry gates. My initial observations were that the gates didn't negatively slow or concern the visitor and having asked a number of them it wasn't a big deal. However an obvious pinch-point is that the barcode scanner doesn't always read the barcode, leaving the visitor struggling. My hunch at this point is that our paper tickets are too thin and bendy which means the barcode scanner fails to recognise the barcode. In the coming week we'll need to investigate if it is the barcode or barcode scanner as the primary cause and find a fix.
When multiple visitors arrive at the barrier there can be some confusion about how "one at a time" actually works. I'm hopeful that clear messaging will iron this out.
A slight issue was that we couldn't take online payments due to a gateway issue which we'll have fixed Monday.
Overall I'm very happy with the introduction of the gates and once we deal with the aforementioned teething issues it should be on to the next location for these gates. This is one of those projects that can only really be tested once they go live with real visitors, and the team did a fantastic job!