Banksy book display
One of the focus areas for improvement at Bristol Museum & Art Gallery (BMAG) and M Shed is our retail offer. Over the past year Zak Mensah (Head of Transformation) and Helen Lewis (Retail Manager), with input from Peter Holloway (retail consultant)  and myself (User Researcher), have implemented a  number of big and small changes in order increase income generation in our shops but to also make them more appealing, relevant, and exciting parts of the museums.
This post is about a small but seemingly effective change we have recently made within the shop at BMAG. It follows the Phase One refurbishment of the shop in October 2015. The shop refurb included the purchase of seven new nesting tables; one of which we have designated to display products outside the entrance of the shop. Here I look at what impact this small change has had.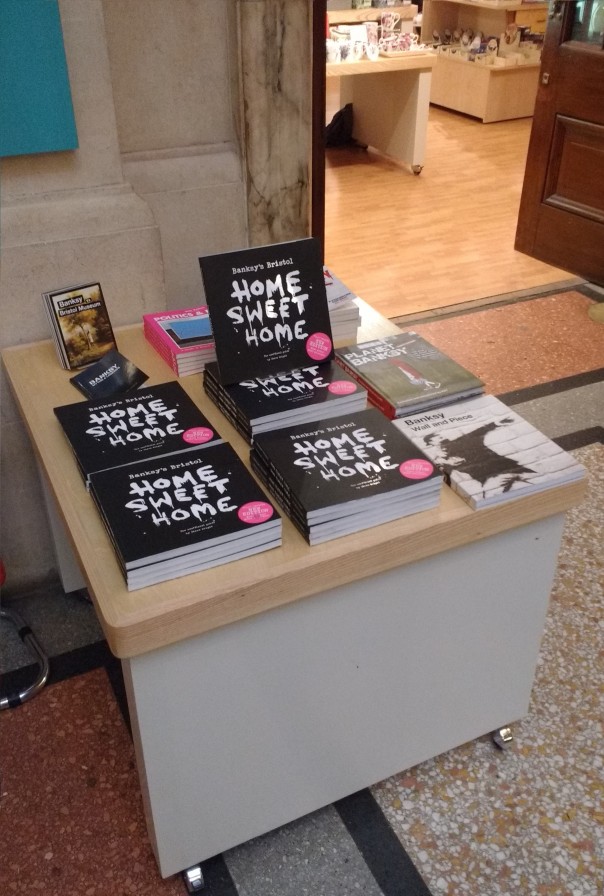 We began using the shop-front display table on the 11th December 2015, and we have been surprised with the positive impact it has had on sales. The display is dedicated entirely to a range of books about Banksy – the world renowned Bristol-born graffiti artist. We know from sales data that the Banksy books are an important product within the BMAG shop. To date in 2015-16 the book Banksy's Bristol: Home Sweet Home by Steve Wright is our fourth most popular product, and overall it is the most popular book that we sell. If you're interested, it is now also available through our online shop.
Following the general retail rule of putting the most popular items forefront and centre of the shop, Helen displayed the Banksy books on the shop-front display table.  In total we stock four books dedicated to the work of Banksy:
Banksy's Bristol: Home Sweet Home – £14.00
Banksy: Myths and Legends – £5.95
Banksy: Wall and Piece – £14.99
Planet Banksy – 12.49
It wasn't until the table was in place that we realised how much of a natural fit the Banksy book display was. Directly outside the shop is BMAG's very own piece of original artwork by Banksy – Paint Pot Angel. The iconic piece was given to the museum by Banksy following the hugely successful exhibition/takeover of Banksy's artwork in the museum in 2009 – Banksy versus Bristol Museum. The display table is in the eye-line of the Paint Pot Angel and it's the perfect moment to capture visitor's interest in Banksy, and ultimately to generate sales of Banksy related products.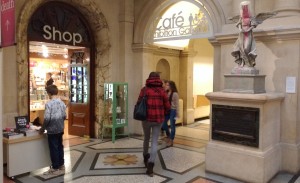 What's been the impact on sales?
Between 2nd May 2015 and the 30th December 2015 we have sold  a total of 205 Banksy books at BMAG. (Our retail sales records for this year  excludes April, it begins in May 2015 as this is when we moved to Shopify).
Period One – without shop-front display table

Prior to the 11th December (223 days) 163 books were sold
Average of 0.73 books sold per day
Period Two– with shop-front display table
From 11-30th December (excluding 25/26th Dec) (18 days) 42 books were sold
Average of 2.3 books sold per day
In the period we have displayed the Banksy books on the shop-front table, there has been an increase in sales of 219.8%

To some extent these figures may be inflated by the Christmas sales, but there are other notably busy periods within the period between May and December so it is likely that this increase in sales cannot be attributed to Christmas alone.
The lessons of this small change it seems is that it can be good to experiment with change in museum retail, especially if you use the  available evidence you have to inform those changes. The Banksy books are  also a great example of the need to provide visitors with products that are relevant to their experience of the museum – they respond well to them.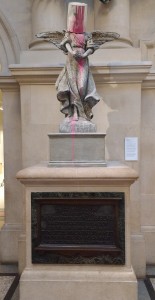 On a regular basis I will see visitors come into the museum, go straight to Banksy's Paint Pot Angel, take a photo of it and leave. There are only nine pieces of Banksy's artwork remaining in Bristol, two of which are displayed in our collections – the Paint Pot Angel at BMAG and the Grim Reaper at M Shed. The two that we display are the only ones displayed in-doors and so we have a great opportunity to provide the Banksy books and other merchandise that fans of Banksy want. As I noted above, we already knew that our Banksy products were popular; even before the shop-front display of the books, the Banksy products were already in our top-ten most popular products. So the big lesson is that when looking to increase income generation it is a good to start with popular items and ask whether they could do better still.